The Brick Connection – A novice Lego fan explores the great brick world of LEGO
Happy May my fellow LEGO fans!

We are diving right back into the topic of jobs that involve working with LEGO bricks. In this case we are covering a job that doesn't actually involve working for TLG.
When talking about LEGO designers and Master Builders I mentioned that as amazing as those jobs are, there are limits to them. The main limit being TLG. The LEGO Group is a toy company whose target audience is kids. Any sets that are designed have to be playable for kids. Any models that are built have to be interesting to kids.

What if I told you that you can have the best of both worlds (Hannah Montana-style!); that there was a job that allowed you to work with TLG, but not for TLG? Well there is…
Here is another acronym for the acronym-loving LEGO fans: LCP – LEGO Certified Professionals
Rather than paraphrasing, I'll let the LEGO website tell you exactly what an LCP is:

As you can see at the bottom there, they are "not accepting any further candidates to become LEGO Certified Professionals."
Well I wonder exactly how often they do accept candidates, because there are currently only 13 LCPs in the world. They are such a special group of people that as you can see, LEGO has a webpage dedicated to them, which includes profiles of the 13 individuals who hold the title.
Check all the profiles out here.
These 12 men and 1 woman hail from Australia, Norway, Germany, Singapore, Canada, Belgium, Japan, the United Kingdom, China, and the United States. (In fact 4 of the 13 come from America. U.S.A baby!!)

So what exactly do these "trusted business partners" of TLG do?

Sean Kenney was the first person recognized by LEGO as a LCP. The title was created for him in 2005. This is what he says about being a LCP on his website (seankenney.com):
LEGO Certified Professionals are officially licensed by The LEGO Group and engage in certain types of commercial activities involving LEGO products. They are recognized by the LEGO Group as trusted business partners and operate as their own fully independent organizations.
On Sean's site and every other LCP's website it is noted that these people are not employed, sponsored, endorsed, or compensated by The LEGO Group in any way.
(Sean also says that there are 15 LCPs in the world, so either LEGO hasn't updated their LCP webpage or the number was 15 and went down. I'm going to assume the former.)

Okay, so from all that you still don't really have a clear picture about what these specially recognized LEGO fans do. Well here's an example:

This is just one sculpture built and designed by Sean Kenney and his team for the Nature Connects exhibition. It is an award-winning, record-breaking exhibition touring North America that was created with over 1.6 million LEGO pieces. It features over 50 sculptures built with LEGO bricks by Sean Kenney and his team.
The exhibit was created in partnership with Iowa State University. According to Sean's website "Nature Connects is foremost an educational platform and secondarily a means of artistic expression."
Through literal "connection" the exhibit shows how everything in nature is interconnected; plants and insects, one species with another, and of course people with nature.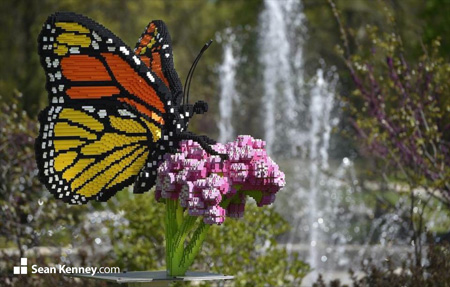 Here is what Sean says about the exhibit: "I hope that you can look at Nature Connects and appreciate both nature and the sculptures as something beautiful, and I also hope you're inspired to go home and create something wonderful yourself."
Find more pictures and more information about this traveling exhibition, including when it might be coming to near you, here. (Right now it has tour dates planned through September 2019.)


Nathan Sawaya is another LCP and his work with LEGO bricks might be the most well-known. Nathan has the distinction of being the only person in the world to have been a Master Model Builder and a LEGO Certified Professional.
Nathan left his career as an attorney to work for the LEGO company in 2004. He was there less than six months before he decided to branch off and open an art studio in New York City.
Since then he has taken the art world by storm with his imaginative and entertaining creations. He is best known for "The Art of the Brick" exhibit which has been presented throughout the world since 2007. In fact it was just up the road from me in Philadelphia for 8 months and I never went to see it.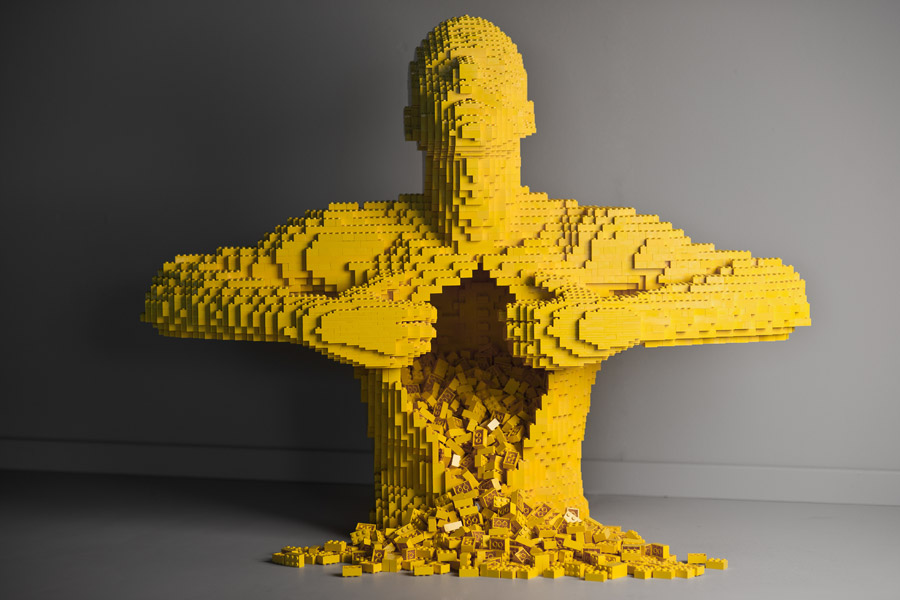 That's right; I didn't go see what CNN calls one of the world's "Must See Exhibitions."


Me not smart.


Check out the video at the end of this post for more about "The Art of the Brick" exhibit.
Nathan has won numerous awards for his art work and is the author of two best-selling books about his life with LEGO. He and his work have been featured on The Colbert Report, The Late Show with David Letterman, the Today Show, Conan, Jimmy Kimmel Live, a Lady Gaga music video, and he was a consultant on a 2009 episode of Mythbusters.
The dude has made playing with LEGO into one of the coolest careers ever. Forget designing sets and building models; this is the line of work every diehard LEGO fan wants to be in. Of course Nathan is obviously an immensely talented individual, whose brilliance can't be replicated. But what LEGO fans can aspire to is to have his work ethic and his determination to not let anyone else define what his limits are, not even the LEGO Group.
No one would think to leave a job with TLG to start their own career building with LEGO. He did. No one had ever made an art career out of building with LEGO. He did.


In fact all of the LCPs have done the thing that everyone wants; turned their passion into a career. Careers that they control and can twist and turn how they choose. It's the dream job.
The other 11 (or 13) individuals that hold the title of LCP have also used their LEGO building skills to reach new heights (sometimes literally.) They are artists, storytellers, educators, philanthropists, entertainers, and more. Most of them make their money working on commission for businesses or individuals that want something built out of LEGO.

And the most desirable aspect of their given job title is that part about being "business partners" with the LEGO Group. This means they can call TLG up to buy bricks in bulk (at a discount) for their projects and TLG may call them with a request to build something for TLG. (For which the LCP will be paid.)
Nathan Sawaya is estimated to own more LEGO bricks than anyone else in the world with about 3 million in his possession. And I'm pretty sure he didn't have to pay full price for each of those.


So you kind of hate these people, right?


Well, if you can put aside your jealousy, hopefully you find them to be more inspiring than anything.

And that's the job of LCP. There's so much more I could talk about, but I think I've talked typed enough.

Here are a few more notes though:
Nathan Sawaya is responsible for the Oscar statues made out of LEGO that were seen at the 2015 Oscar ceremony.

Although, I still believe Master Builders were involved, LEGO enlisted LCPs to help build the life-size LEGO statues for The Force Awakens premiere.

You can check out more of the goings-on of LCPs through their official Facebook page.

Here is an interview with Nathan Sawaya where he talks about his two prestigious LEGO job titles, his exhibit, and gives advice to aspiring LEGO artists:
Now that you've heard about three different careers working with LEGO bricks, which would you rather do?
If I had the talent and imagination, LCP really seems like the best job a skilled LEGO fan could want. Of course I'm not a skilled LEGO fan, so I really don't have anything going for me there.

What about everyone else? Let me know!
Until next time..................wish a Happy Birthday to BrickWarriors co-founder and CMO (and my best friend), Amanda!! Happy Birthday Amanda!!


*Compliments, general feedback, and constructive criticism are welcome. Any haters that are gonna hate, hate, hate, hate, hate can go step on some Lego with their bare feet.*